fbn100.jpg
Factory Benelux presents a deluxe double vinyl gatefold edition of Deux Triangles, originally a 1981 EP by acclaimed Factory Records group The Durutti Column, which can be considered a companion set to their signature second album L.C. Just 1000 copies have been pressed on blue and clear coloured vinyl for Record Store Day on 17 July 2021.
Recorded in Brussels and Manchester in 1981, Deux Triangles began life as single on which Vini Reilly intended to showcase his piano playing as well as his trademark shimmering, filigree guitar. Bruce Mitchell played drums, with his artist wife Jacqueline also contributing tentative bass guitar as well as the record's beautiful watercolour cover art.
Delayed by the release of the sublime L.C. album in November 1981, Deux Triangles eventually appeared on Factory Benelux the following year and featured 5 tracks: Zinnia, Favourite Painting, For Patti, Weakness and Fever and Piece for Out of Tune Grande Piano, the latter a solo piano improvisation lasting fully 12 minutes.
Long deleted, the original 5 tracks are now expanded to 10 with the inclusion of several other pieces recorded for Benelux and sister label Crepuscule during the same period, including compilation tracks (One Christmas For Your Thoughts, Party, The Eye and the Hand) and album outtakes (Mavucha, Homage to Martinu). Vini's extended solo piano piece appears in the shortened form (Piece of Out of Tune Grand Piano) issued by Factory in 1986, the full length version being included on the digital version of Deux Triangles Deluxe.
Disc 2 is the complete 10 song live set performed by the group in Brussels on 13 August 1981, never before released on vinyl. Professionally recorded for Belgian radio, the festival gig coincided with the first studio session for Deux Triangles.
The newly remastered double disc set is housed in a gatefold sleeve printed on matt reverse board, with liner notes including a contemporary interview with Vini Reilly. Cover art and calligraphy by Jackie Williams. Just 1000 copies have been manufactured for Record Store Day 2021, pressed on clear and blue coloured vinyl.
The digital version includes the full-length version of Piece for Out of Tune Grand Piano (lasting 12 minutes) as a bonus track, as well as Verbier.
Vinyl (2xLP) tracklist:
A1. Homage to Martinu
A2. Zinnia
A3. Weakness and Fever
A4. For Patti
A5. Piece of Out of Tune Grand Piano
B1. One Christmas For Your Thoughts
B2. Party
B3. Mavucha
B4. Favourite Painting
B5. The Eye and the Hand
C1. Sketch for Dawn (live)
C2. Messidor (live)
C3. Jacqueline (live)
C4. Conduct (live)
C5. Sketch for Summer (live)
C6. Danny (live)
D1. Stains (Useless Body) (live)
D2. The Missing Boy (live)
D3. Self-Portrait (live)
D4. For Belgian Friends
Available on digital (MP3). Vinyl is sold out. To order please select correct shipping option (UK, Europe, or Rest of World) and then click on Add To Cart button below cover image, or else contact FBN by email for other payment options including tracked/signed for.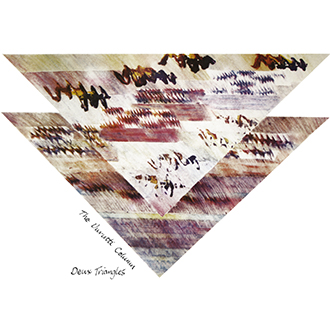 Reviews:
"The original Deux Triangles EP remains one of Vini Reilly's most ambitious works. That's down to the way it shifts seamlessly between trademark filigree guitar and hushed beats, while boasting a greater emphasis on haunting piano figures. Long unavailable, the EP has been expanded here into a double vinyl set featuring a further five tracks recorded around the same time, as well as a second plate recorded live in Brussels showcasing typically languorous vocals and miraculous shapeshifting" (Record Collector, 07/2021)